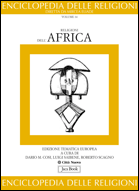 Hardbound with jacket
pp. 332
Euro 140,00
ISBN: 978-88-16-41014-5


ENCICLOPEDIA DELLE RELIGIONI - Volume 14




RELIGIONI DELL'AFRICA




Directed by Mircea Eliade



This volume (about 500 columns, 70 entries), dedicated to those phenomena linked to religion in Africa, has a very diverse nature due to the peculiar historical vicissitudes of this continent.
As Africa is the point of connection between many native religions and the great missionary religions coming from abroad, the table of contents of this work alternates, in alphabetical order, entries relative to the entire continent or to parts of it, to more specific entries dedicated to monotheistic religions in Africa and to proper African religions. Other entries instead deal with the main gods worshipped by the African population, and with the biographies of many prophets and founders of millenarian creeds or of independent Churches that pinned down the religious history of this continent in a very peculiar way. Finally, there are a few voices dedicated to those African phenomena and ideas, spread all over the religious world (Soul, Iconography, Magic, Masks, Music, Sovereignty, Witchcraft, Theatre, Trickster) and a few entries that describe those religious phenomena that are exclusively African as the Cults of grievance.